Chapter: Canada's Regions
Topic: The Atlantic provinces
advertisement
advertisement
advertisement
The Atlantic provinces
The Atlantic provinces stretch across Canada's east coast, and their abundant natural resources have made them Central to the history and development of Canada. Their geographic location means that they are quite cool even in summer, and cold in winter. The four Atlantic provinces are Newfoundland and Labrador, Prince Edward Island, Nova Scotia, and New Brunswick.
Newfoundland and Labrador has a unique time zone, being more easterly than any other point in North America. The province is renowned for natural beauty and also its history of seafaring. It was the British Empire's oldest colony and was frequently fought over in the early years of Canada. It is renowned for its fishing industry and its unique culture. The modern economy of the province relies heavily on offshore oil and gas; the province also has many hydroelectric plants.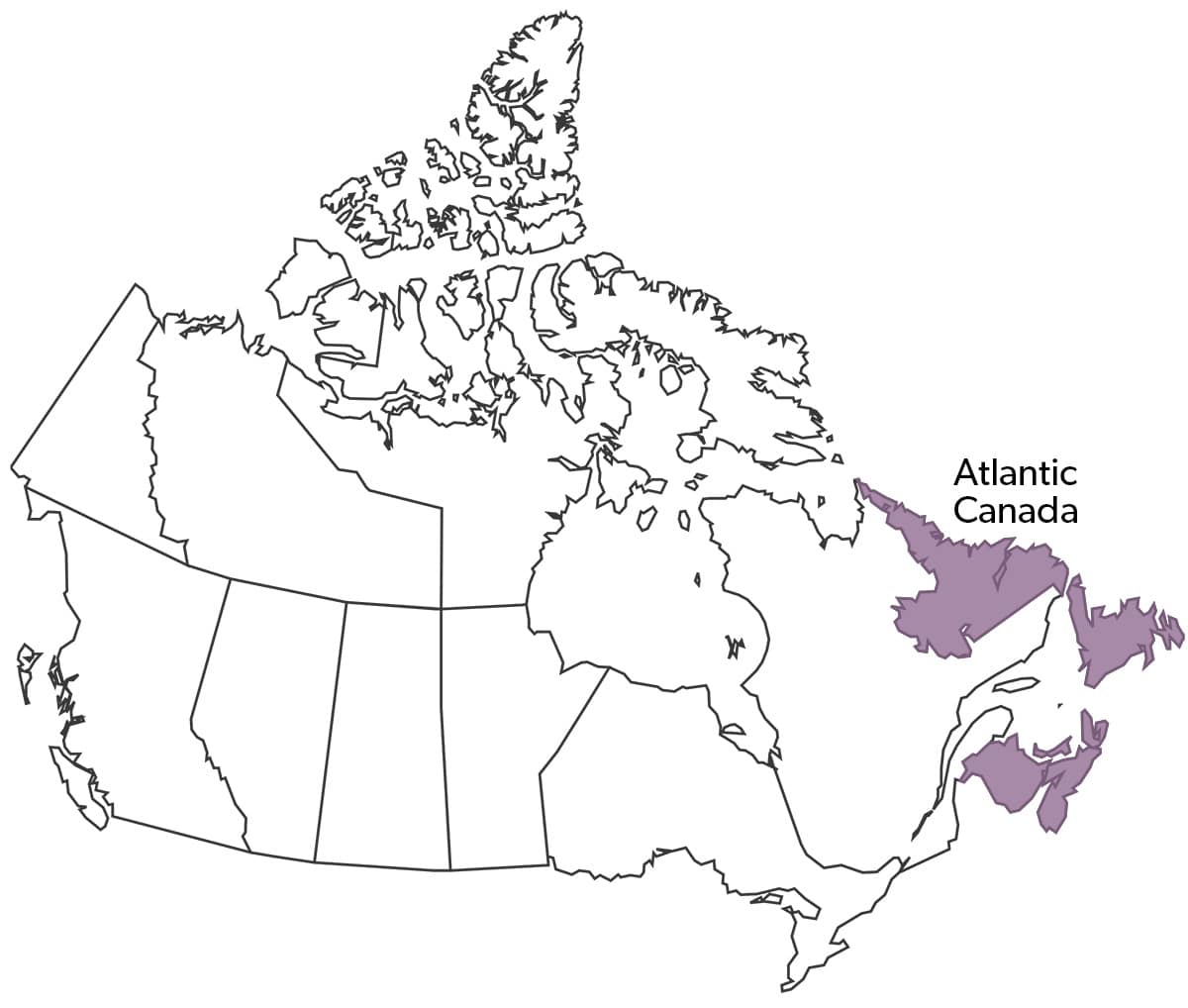 Prince Edward Island (P.E.I.) is Canada's smallest province, famous for beaches, red soil and farming, particularly potatoes. Confederation began in P.E.I., and the island is joined to the mainland by one of the world's longest bridges, the Confederation Bridge. A famous fictional resident of P.E.I. is Anne of Green Gables, star of the story by Lucy Maud Montgomery.
Nova Scotia has the highest population of the Atlantic provinces, and is famous as the historic gateway to Canada. It has a notable maritime heritage, famous for its fishing industry, shipping trade and shipbuilding yards. Halifax, the largest East coast port in Canada due to its deep waters and year-round freedom from ice, has been historically important in both trade and defence in the Atlantic; it is the site of the largest naval base in Canada. Inland, agriculture, forestry and coalmining all go back a long way. The province also has several offshore oil and gas installations. Nova Scotia has its roots in Celtic and Gaelic traditions and these are reflected in more than 700 annual festivals, perhaps the most notable of which is Halifax's military tattoo.
New Brunswick is located on the Appalachian range; it was established by the United Empire Loyalists. It encompasses the St John River system, the second largest river system on the Atlantic coast of North America. The province's chief industries are tourism, food processing, mining, fishing, agriculture and forestry. The largest city in the province is St John, which has the greatest share of manufacturing industry; Moncton holds the main Francophone Acadian population, and Fredericton is the province's historic capital. Around 30% of the population of New Brunswick speak French as their first language, and it's the only province that is officially bilingual. The loyalist and French cultural heritage of the province can be seen in its many street festivals showcasing its traditional music.