There are some things we never get into the car without and then there are some that should never leave it. While it may seem essential to grab an aux cord to play your music, the real necessities are things we hopefully don't need to use. In an emergency, it's important to be prepared, and for the times when you can't call or wait for roadside assistance, these items will help you make it through.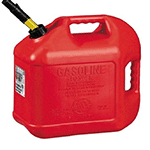 Being stranded on the side of the road without gas is one of the most inconvenient scenarios you could find yourself in. With no one around to help, one of the only options you're left with is to start on foot and track some down. But how do you get the gas back to the car? By keeping an empty gas can and siphon in your trunk, you'll always be prepared when you need to fill up.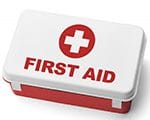 It goes without saying that a first aid kit should be kept in your car at all times. From minor bumps and bruises while out for the day, to treating an injury from an accident before paramedics arrive, you'll be glad you put one in your trunk during times like these.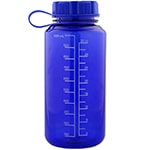 If you've ever taken a long trip in the car, odds are you've been in need of something to eat and drink with no rest stop or gas station in sight. A simple solution is to keep some water bottles and a few snack foods tucked away for just this purpose. Things like granola bars can go a long way and they don't take up much space. Best of all, you'll have a small stash in case of a real emergency.
Like its name suggests, a multi-tool has multiple purposes, and if you've got one in your car, you'll probably find yourself using it in more ways than one. Most come equipped with screwdrivers, pliers, knives and even toothpicks, but certain car-specific multi-tools can actually save your life. Look for a tool that includes a seatbelt cutter and window hammer, as these components will help you escape your car if it ever becomes submerged in water.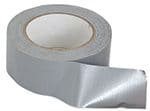 Duct tape is famous for its many uses and a role in the trunk of your car will probably come in handy in more ways than you could probably imagine. From re-securing a hanging bumper or fixing a broken taillight to creating a makeshift emergency rope, there's no limit to the things you can do with duct tape. Best of all, a big role will only set you back a couple of bucks.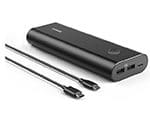 In this day and age, having your phone battery die is the equivalent of being cut off from society. We rely so heavily on our phones that the very thought of it not being with us in the car can trigger a mini panic attack. Good thing there are USB battery chargers. If you don't have your regular car charger with you, a portable USB backup battery charger can come through in the clutch, especially if you're using your phone to navigate, and provide a full charge to your dying phone. Just remember to recharge it.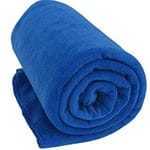 There are so many scenarios in which you can end up stranded on the highway with a broken down car. In the winter, this can be especially dangerous due to the cold temperatures. Once summer is over, it's a good idea to throw a couple blankets in your trunk in case of emergency. A mylar blanket is extra useful in this case. Not only will they keep you warm long enough for help to come, but you never know when you might pass someone else who's broken down and in need a little warming up. You may even go as far as keeping an extra coat and a couple pairs of gloves in there, too.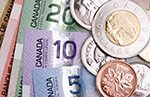 With tap-to-pay debit and credit cards, as well as mobile payment apps, carrying cash and change can sometimes seem archaic. Don't be fooled, though–there are plenty of times you'll need hard cash or a handful of change when you least expect it. In the event a store or gas station doesn't support your method of payment, cash on hand is really helpful. Keep a small cup full of change in your car and you'll never have to worry about toll booths, either.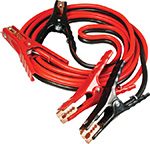 If you've ever had problems starting your car, you know one of the first things to check is the battery. It happens a lot and especially in the winter–you turn the key only to hear the engine struggle. If you're in a parking lot or close to another vehicle, it's a quick fix, as long as you've got booster cables, of course. Having a set in the car also means you can boost someone else in a pinch.
Mats, Carpet or Cardboard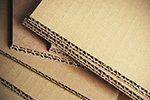 If you've found yourself stuck in the mud or snow, laying a piece of cardboard or a mat under the sunken tires can help create a grip to get yourself out of a rut. Stored flat in the trunk, a car mat, piece of carpet or cardboard doesn't take up much space, either, but it can become one of the most important tools when you least expect.
Though a car only offers limited space for extras, these few items should be among the most important to make room for. Prioritize the space you do have to include these in your car and you'll not only have them in an emergency, but they'll also provide the peace of mind when you need to focus on the road ahead. Are you ready for your driving test? Take this multiple choice practice driving test to find out now!