CHOOSE YOUR FREE M1 PRACTICE TEST BELOW:

APNATORONTO Premium
With APNATORONTO.COM's Premium subscription, you get an uninterrupted and advertisement-free viewing experience!
All the Reasons You Should Take an M1 Practice Test
Do you want to obtain your motorcycle license? The first step is taking the M1 exam. It's similar to the regular driving exam, but there are a few differences.
It's great for safety, gaining skills, and having fun, but not everyone can handle the motorcycle. Taking an M1 practice test can help you practice for the exam. Here are some reasons why this is beneficial.
Importance of Reading the Motorcycle Handbook
Reading the Ontario motorcycle handbook is important for a number of reasons. So, let's take a look at how a driver's handbook can help you with the practice test.
Provides Essential Information
Reading the driver's handbook is a great way to prepare for Ontario M1 exam. They provide essential information about Ontario rules of the road.
By reading the handbook, you can check your knowledge of the material and ensure that you are prepared for the real thing.
Great Resource for Studying for Your Permit
The driver's handbook is a great resource for studying for your permit or license test because it will give you a chance to see the possible materials covered on the test.
Learn About the Different Types of Traffic Signs and Signals
By reading the motorcycle handbook, you can learn about the different types of traffic signs and signals and what they mean. Also, the motorcycle handbook can help you brush up on your skills and knowledge so you can be a better, safer driver.
The Benefits of Taking an M1 Practice Test
There are many benefits to taking an M1 practice test. Let's check some of them below:
Help You Gauge Your Knowledge of the Material
Practice tests like an M1 practice test help you gauge your knowledge of the material. Doing so will allow you to see where you need to focus your studying and help you become more confident in your abilities.
With a practice test, you can identify any areas you are weak in and develop a plan to improve.
After preparing and studying for the test, sitting down and taking the practice test will show you how much progress you have made. This will give you the confidence you need to walk into the DriveTest and take the M1 test with ease.
In addition, doing well on the practice test gauges how well you will do on the actual exam, so you will know if you need to spend more time studying certain areas or not.
Another benefit of taking the M1 practice test is that it will help increase your chances of success on the actual M1 test.
This is because taking a practice test allows you to become familiar with the types of questions that will be on the exam, as well as the format. Additionally, it gives you an opportunity to identify any areas where you may need additional study.
If you are feeling anxious about an upcoming test, taking a practice test can help you to identify any areas where you need to focus your studying.
Also, by becoming familiar with the format and content of the test, you can increase your confidence, feel more relaxed and be better able to focus on the task at hand.
By taking an M1 practice test, you can avoid the expensive fees associated with taking the actual M1 test. Additionally, you can save money on gas and other transportation costs by not having to travel to a testing center.
Also, you can save time by taking the practice test in the comfort of your own home. And, by taking an M1 practice test, you can increase your chances of passing the actual M1 test, which can save you even more money.
Find a DriveTest Centre Near Me
Motorcycle License Practice Test in Audio Format
The Process For Obtaining a Full Class M Licence
The Background to Taking an M1 Practice Test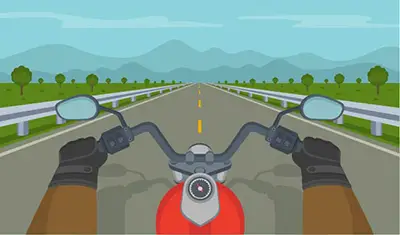 A valid Ontario motorcycle license is required to ride a motorcycle. A valid license plate, insurance, owner's permit, and helmet are also required. Drivers must obey all traffic rules and drive safely.
The types of licenses issued to motorcyclists in Ontario are M, M1 and M2. This is usually offered to full-speed motorcycle riders. If you drive a moped or scooter, you need an M driver's license with the L condition.
To apply for the M1 license, you must be at least 16 years old at the time of application. If you are a Canadian citizen, you are required to submit the documents below. Check them out:
• Passport (Canadian or Foreign)
• Canadian Citizenship Card With Photo
• Secure Certificate of Indian Status Card
• Ontario Photo Card
Meanwhile, if you are a permanent resident, you have to submit certain documents too. These documents are listed below. Let's take a look:
• Record of Landing
• Permanent Resident Card
• Ontario Photo Card
• Confirmation of Permanent Residence
Lastly, if you are a temporary resident, you are eligible for the M1 test too. You just have to submit the documents we have below.
• Study Permit
• Work Permit
• Refugee Status Claim
• Temporary Resident Permit
You must also pass a vision test and a written test. The written test is about traffic signs and traffic rules. Passing the M1 exam classifies you as a beginner driver.
Tips for Taking an M1 Practice Test
An M1 practice test is a great way to prepare for your motorcycle license exam. We have provided a few tips to help you get the most out of your practice test. Check them out below!
Learn More About the M1 Practice Test
If you want to ensure that you are fully prepared for your M1 license exam, you should definitely take an M1 practice test. By doing so, you will be able to identify any areas in which you need to improve and work on them before your actual exam.
Also, taking a practice test will help you get more comfortable with the format and level of difficulty of the real exam so that you can go into it with confidence. By following these tips, you will be well on your way to passing the M1 license exam. Good luck!
Did you find this article helpful? Check out the rest of our blogs!
Ontario M1 Test: Frequently Asked Questions:
If I have an L restriction on my motorcycle licence, what does that mean?
You are restricted to limited speed motorcycles or mopeds, which cannot exceed a maximum speed of 70 km/h.
What does it mean if I have Condition 1 added to my motorcycle licence?
You can only ride three wheeled motorcycles (motor tricycles).
How long will it take to obtain my full motorcycle licence?
The average time from first application to full motorcycle licence is twenty months.
What happens if I fail the road tests at any point?
If you fail the test for your Class M2 licence, you may take the test again providing your temporary driver's licence is still valid. If it is not you may be able to obtain a one-day temporary licence to allow you to retake the test, provided you booked the test before your temporary licence expired. If you fail the Class M test, you may retake it.
What are the requirements for beginning the Ontario motorcycle licence program?
You must be at least sixteen years old when you apply, be able to meet the Ministry of Transportation vision standards and pass a knowledge test encompassing traffic signs, knowledge of motorcycles and the rules of the road.
I have a full Class G vehicle licence, will this make it quicker to obtain my full motorcycle licence?
No, everyone must begin the graduated program from the beginning (with some exceptions detailed below).
What are the graduated steps to obtain a full motorcycle licence?
Firstly you must fulfil the conditions for application for an M1 licence, then within ninety days of receiving this you must take a test for the M2 licence (you must have at least sixty days of riding experience for this) and you can then progress to taking a test for your full motorcycle licence.
Are there any limits on what I can do while riding on an M1 licence?
Yes, you must have a zero blood-alcohol level at all times when riding, ride only during daylight hours (half an hour before sunrise to half an hour after sunset), wear an approved helmet, not drive on roads with speed limits in excess of 80 km/h (except highways 11, 17, 61, 69, 71, 101, 102, 144 and 655) and you may not carry passengers.
What limitations are there to riding on an M2 licence?
You must still maintain a zero blood-alcohol level when riding and wear an approved helmet, but you are permitted to ride at night and on any road.
How soon after achieving my M2 licence can I take a test for the full motorcycle licence?
To take the test for an M licence you must have been riding with an M2 licence for at least twenty-two months. If you successfully pass a government-approved motorcycle safety course, this time limit is reduced to eighteen months.
I have a full motorcycle licence from another jurisdiction, can I exchange this for a full Ontario motorcycle licence?
Only if the licence is issued by a jurisdiction which has a reciprocal agreement with Ontario (another Canadian province, the United States, Switzerland, Australia, Northern Ireland or Canadian Forces Europe) and you have held it for two years. If you have a licence from one of these jurisdictions but less than two years of riding experience, you may be eligible to start the graduated licensing program from M2 level. Otherwise you must start the program from the beginning.
Can the examiner give me hints to help me pass the test?
No, coaching is strictly forbidden; if you have any questions about any parts of the test make sure you ask the examiner before the test begins.
Will the test always run its full course?
Not necessarily; the examiner may stop the test, or refuse to start it, if s/he decides that your bike is not in good working order, that you are impaired by alcohol or drugs or that your driving skills preclude finishing the test safely.
If I fail the test, how soon can I take it again? And how many times?
You have to wait at least three days after failing a test to take another one. You can take the test as many times as you like, provided your motorcycle licence is still valid. You must pay the required fee to repeat the test.
If I pass my M2 road test, am I qualified straight away?
Yes, you will be issued with a temporary driver's licence which is valid for ninety days or until you receive your permanent photocard licence in the mail.
What do I need to take my Class M2 road test, and what does it involve?
You must have been practising on your temporary (M1) licence for at least sixty days. The test assesses basic driving skills and takes around twenty minutes.
Is there any way I can obtain a Class M2 licence without taking the road test?
Yes, if you successfully complete a Ministry of Transportation approved motorcycle safety course the training organisation will either give you a paper confirmation of this or send electronic confirmation to the DriveTest Centre of your choice. You can then apply in person to the DriveTest Centre and be awarded an M2 licence without testing.
What does the full motorcycle licence road test involve?
This test takes around half an hour and involves driving on roads and highways where you will be followed by a car carrying a driver and an examiner; the examiner will instruct you as to what to do via a radio link.
When can I take the necessary motorcycle road tests?
Road tests for both licences (M2 and M) are held between mid-May and mid-October each year unless the period is curtailed by bad weather. You can book your road test from May 1st each year.
How should I prepare for my motorcycle road test?
Study the Official MTO Driver's Handbook and the Official Motorcycle Handbook and practice all the necessary manoeuvres in a variety of different locations, times of day and weather conditions. You can also practice here for your M1 Test.
Can the DriveTest Centre loan me a motorcycle for the test?
No, you must bring your own motorcycle or one that you have borrowed or rented. It is your responsibility to make sure that it is of the correct class for your test and in good working order; you must also have the appropriate insurance for the motorcycle.
What do I need to bring to my motorcycle road test?
You must provide a motorcycle in good working order, glasses or contact lenses if you need to wear them for driving, your current driver's licence, a printout of the confirmation email for your test and a helmet that complies with Regulation 610 of the Highway Traffic Act. It is recommended, though not compulsory, that you wear either a full face or three-quarter face helmet which will help you to hear the examiner's instructions better than a half helmet.
What if an applicant can't speak French, English or any of the other languages offered?
The candidate will have to make an appointment for a verbal knowledge test and bring an interpreter. The interpreter will have to meet the professional standards required by the Ministry of Transportation; the candidate can't simply bring a friend or family member.
How many questions are there on the G1 written test?
The G1 written test consists of 2 sections (Road Signs and Traffic Rules) with 20 questions in each section, a total of 40 questions on the written licence exam. An overall score of 80% or more is required to pass.
How long will the knowledge test take me?
You can take as long as you wish to complete the knowledge tests (provided you finish within working hours) but a typical candidate takes between twenty and thirty minutes.
Do I need an appointment to take the knowledge test?
No, just go to any DriveTest Centre at least an hour before closing time and you will be able to take the test without booking.
What mark do I need to pass the knowledge test?
An overall score of 80% or more is required to pass.
What happens if I fail the knowledge test?
You can pay the required fee and try again as many times as you like. If you retake the test within a year of your original attempt, you will only have to retake those parts that you failed. If you leave it more than a year, you will have to take the entire test again.
How can I revise for my knowledge tests?
All the information required for your class of licence can be found in the ministry of Transportation's Official Driver's Handbook. A partial version is available online but it is recommended that you obtain the printed copy of the handbook relevant to your class of licence. Additionally, there are MTO-approved driving schools that run courses that can prepare you for the test. You can also try our G1, M1, and Class A practice tests.
What languages can I take the tests in?
Computerised G1 and M1 knowledge tests are available in twenty languages, as are paper versions of the class G1 test. Paper versions of the class M1 knowledge tests are only available in English or French. For commercial licence knowledge tests, computerised tests are only available in French or English, and paper versions are only available in English, French, Arabic, Chinese (Cantonese), Hindi, Punjabi, Russian and Tamil.
I have poor reading and/or writing skills, what should I do?
The computerized knowledge test system can be used with audio capabilities, so it is recommended that you find a DriveTest Centre which can offer you a computer test. If you cannot manage the computer test then you can take a verbal test administered by a DriveTest Centre employee; you will have to make an appointment for this.