CHOOSE YOUR FREE COMMERCIAL LICENCE TEST BELOW:

APNATORONTO Premium
With APNATORONTO.COM's Premium subscription, you get an uninterrupted and advertisement-free viewing experience!
How to Prepare for the Ontario Class AZ License Test
In modern times, there are plenty of jobs that require you to spend a lot of time on the road. Truck driving is one such option that actually pays a reasonable rate. According to indeed.com, the average truck driver's salary is about $25.55 per hour.
However, you need more than a normal driver's license in Canada to legally operate a truck. More specifically, it lets you drive any truck/tractor trailer combination or something like a tow truck.
Here's what you need to know about the AZ license and how to prepare for the Class AZ license test.
Are you looking for a CVOR practice test?
Know the Difference Between AZ vs DZ License
To begin commercial truck driving, you need to first get an AZ license. A full Class AZ truck license qualifies you to drive a motor vehicle and towed vehicles exceeding a total of 4,600 kilograms. The kind of vehicle that fits this description includes dump trucks, garbage trucks, and vans.
You also have the option of getting a "C" endorsement so you can legally drive coaches and large passenger vans.
The other option if you want to drive a truck is the DZ license. Both the "A" and the "D" specifies the weight categories that are covered.
A DZ license allows you to drive a motor vehicle over 11,000 kg or the same vehicle towing a trailer of less than 4,600 kg. In other words, the AZ license qualifies you to drive trucks with heavier loads than a DZ one. As such, the AZ license covers everything that a Class G, D, or restricted Class A license covers.
Research the Requirements for AZ License
Anyone interested in the AZ license should first research all of the requirements. See if you meet all the minimum qualifications before you even take the practice test. Study what will be on the test, and look into training institutions.
First and foremost, only full adults are allowed to have an AZ license. You can't take a summer job during your teen years as a trucker, even though it's legal to work as a teenager in Canada.
Preferably, you'll be over the age of 25. The younger you are, the higher your insurance premiums may be. Employers will be less likely to hire you if you cost too much to insure.
Additionally, most companies require at least proof of a high school education. This can take the form of a high school diploma or GED.
Next, you have to pass the MTO medical test or physical exam. This evaluates whether or not you're in good physical health and can drive safely on Ontario roads. A company can't afford to have its drivers get into serious accidents because of an undiagnosed medical condition.
Individuals younger than 46 years of age need to retake the exam every 5 years. People up to age 64 need to retake it every 3 years. If you're older than 65, then it's a yearly requirement.
A relatively clean driving record is another necessity when applying for an AZ license.
You need a full class G license to apply, which is the standard one that lets you drive normal vehicles. Without one, you cannot pursue any of the other license classifications.
As for your driving record, you shouldn't have anything more than minor speeding offenses. Those are unlikely to affect your truck driving career unless there are a lot of recent ones.
Other offenses are taken much more seriously. You can't apply if you've been caught driving under the influence or have multiple moving vehicle offenses.
The written test is the first part of getting your AZ license. Passing the written portion leads directly to the practical on-road test.
Expect the test to contain questions about commercial driving in Ontario, rules of the road, and air brake information. You need at least an 80% to pass the knowledge exam, and it should take you about a half hour to complete.
In a similar vein, you shouldn't have a criminal record. Truck driving may not seem like the kind of career that cares much about your history.
However, it's a job where you're constantly operating large machinery on the road alongside thousands of other vehicles. You may also be transporting resources and equipment that are worth millions of dollars. An ex-convict could be a liability to a company.
In addition, a criminal record can prevent you from fulfilling your duties. Often, truck drivers need to cross borders to make deliveries. They also need to be insurable.
A person's criminal history can limit their movement across borders, and insurance companies may not cover them.
Finally, you have the road and practical test to complete. This part involves taking everything you've learned and studied and applying it in a real-world setting.
On the testing day, you'll want to bring your driver's license, an insured Class A vehicle, and a copy of the email confirmation. The Z-endorsement portion requires a hard hat, wheel chocks, and a stopwatch.
Find a DriveTest Centre Near Me
Truck Driver License Practice Test in Audio Format
Process for Obtaining a Commercial Vehicle Driver's Licence
The worst thing you can do is pay to take the Class AZ license test without utilizing a free practice test, first. In Ontario, the cost of your road tests, your Z-endorsement, and your license will run you about $275. Both license tests will cost you $122.75 as a package deal.
If you fail the test, you can pay the fee to take it again. However, you won't want to keep paying over a hundred dollars for redos.
Here are a few things to look for in online practice tests.
The reason you take practice tests is that they're free and help prepare you for the real one. You don't want to choose a test provider that charges you for access to something you can get free elsewhere. It's supposed to be an affordable option for people from any walk of life who want to be commercial truck drivers.
Any website you use to gain information needs to be easy to use and read. Many people that are training to become truck drivers never grew up around technology. They need a resource with accessible content that doesn't require clicking through too many pages.
Additionally, it helps if the practice tests don't require you to download them. Some people may use library computers to prepare for their tests. They might not have a flash drive on them or a laptop at home to study on.
Offers Additional Resources
Ideally, the website where you access your practice test will also host information on other areas in addition to AZ licensing. That would show that they're an expert when it comes to rules of the road, trucking, and handling motor vehicles.
They may have practice tests for new drivers, motorcyclists, and other aspiring learners. It helps if those tests are broken down into specific areas, like one for traffic signs and another for air brakes.
Complete Your Entry Level Training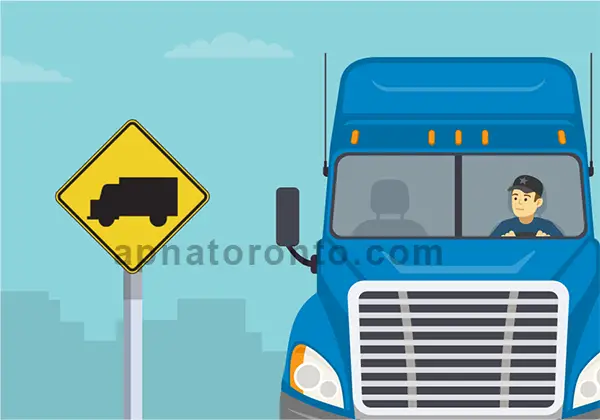 After your written test comes the hands-on part. The most important way to prepare for your AZ license road test is by completing MELT, or mandatory entry-level training. These courses were implemented by the Ministry of Transportation (MTO) in 2017.
Training must be provided by an accredited Ontario truck driving school. You must have at least 103.5 hours completed, though there are some courses that provide more substantial training. There's also a required 8 hours of training on air brakes.
The course you take should teach you the ins and outs of the vehicle, how the industry works, and give you the skills to succeed as a truck driver.
One issue you may face is paying for the training program. Signing up can cost you anywhere from $7,000 to $10,000. If you can't afford MELT courses, you can always try out government assistance programs to get funding.
Make sure to join a program with good reviews that offers the best equipment for training. How much you pay will depend on the school and the programs offered.
For example, Canada Trust Driving School has three programs: Standard, Express, and Advanced 200 Hour. You can expect the 200 Hour course to cost more than the Standard one.
Upgrade your odds of acing it with free practice exams from commercialdriver.ca
Commercial Driver's Licence Test: Frequently Asked Questions:
Commercial Vehicle Road Test
How long have I got after passing the knowledge and vision tests to take my commercial vehicle road test?
You must successfully complete a road test within a year of passing the knowledge and vision tests; if you don't you will have to take those tests again and will have to pay a new fee.
If I fail my commercial vehicle road test, how soon can I take it again, and how often can I take it?
You must wait ten days between each attempt at a commercial vehicle road test; you can take it as many times as needed to pass provided your licence remains valid.
What must I bring to my road test for a commercial vehicle?
An appropriate vehicle for the class being tested, any corrective lenses or glasses, a valid licence, a printout of your test email confirmation and a daily inspection report and the schedule for your vehicle. If you do not provide the daily inspection report and schedule your test will be cancelled and you will forfeit 50% of the road test fee.
What off-road tests will I have to take before taking the on-road test?
You will be asked to perform a daily vehicle inspection test on six elements of your vehicle; you will be expected to demonstrate competence in inspection and knowledge of how to identify any defects and what action must be taken in respect of them. Where appropriate for the class of vehicle you will be expected to show competence in coupling and uncoupling trailers, and you will be asked to demonstrate your skills in backing your vehicle safely.
How long will the road test take?
Depending on the type of vehicle, between forty and seventy minutes.
What vehicle should I bring for my commercial vehicle road test?
The vehicle must be appropriate to the class of licence you have applied for and in good working order. It can be your own vehicle or it can be borrowed or rented, but you must make sure it is insured for your use. If your licence class includes pulling a trailer, you should bring the trailer as well but it should not be loaded.
I want to take a practical air brake test for my Z endorsement. What do I need to bring?
Wheel chocks or blocks, a stopwatch or a watch with a second-hand, a means of holding the brake in the applied position, something with which you can mark the pushrod and measure the pushrod stroke and protective headgear and eyewear (pushrod measurement devices and protective headgear and eyewear not required for motor coaches). You may also bring a chart of brake adjustment limits if you wish.
Am I qualified to drive a commercial vehicle as soon as I pass the road test?
Yes, you will be given a temporary paper licence which is valid for ninety days or until your official photocard licence is mailed to you.
Commercial Vehicle Licences
I am moving to Ontario from another jurisdiction, can I exchange my commercial driver's licence for an Ontario one, or use my current one?
Commercial drivers from other countries must apply for an Ontario driver's licence within sixty days of arrival. If you have a commercial licence from other jurisdictions in Canada, or a Canadian military DND 404 permit, you may be eligible to simply exchange your licence (this does not apply to classes B and E (school buses)).
I plan to drive a large vehicle but only for my own purposes, do I still require a commercial driver's licence?
You may well do if your vehicle exceeds certain size and weight limits, for example a horsebox. Check the Ministry of Transportation website for details.
Does one licence cover all commercial vehicles in Ontario?
No, there are eight separate licences or licence endorsements for different types of vehicle; it is your responsibility to make sure you have the appropriate licence or endorsement for the vehicle you are driving.
Can I hold licences for more than one type of commercial vehicle in Ontario?
Yes, you can apply for licences for as many commercial vehicles as you wish and they will be shown on your licence in combination, e.g. if you are qualified for Class A, Class D and Class F your licence will be designated ADF. You have to pass tests for each class separately.
What are the minimum age requirements to drive a commercial vehicle in Ontario?
To drive a class A, D, C or F vehicle you must be at least eighteen years old, for Class B or E you must be at least twenty-one years old.
Can I start training for a commercial vehicle licence from scratch without any driving experience?
No, you must hold a valid Class G licence or higher before applying.
What are the minimum standards for obtaining a commercial vehicle licence?
For all classes you must pass an applicable knowledge test, meet the required vision standards, submit a satisfactory medical examination report and pass the applicable road test. Additionally, for classes B, C, E or F you must pass a hearing standard threshold and for class B and E (school transportation) you must pass a driver records search which shows no more than six demerit points, no licence suspension within the previous twelve months, no more than a single criminal code offence involving a motor vehicle within the preceding five years and you must also pass a Criminal Record and Judicial Matters Check.
Where do I get a medical examination report from?
The DriveTest Centre will provide you with a blank medical form that you should take to a qualified physician or nurse practitioner (your employer or your physician may already have these forms) to be completed. By law your medical practitioner must report any medical condition that might affect your safe operation of a motor vehicle.
What standards must my eyesight meet to pass the vision test for my commercial driver's licence?
The standards differ depending on the type of licence; for passenger vehicle, motorcycle and driving instructor licences your vision must not be poorer than 20/50, but for commercial licences it must not be poorer than 20/30.
What happens if I fail my vision test for commercial licence at the DriveTest Centre?
You will be given a form to take to your vision specialist that must be completed and returned before you can continue with your application or renewal. If you are attempting to renew a commercial licence and fail the vision test your licence will be downgraded to Class G until this form is returned.
How long will the knowledge test take me?
You can take as long as you wish to complete the knowledge tests (provided you finish within working hours) but a typical candidate takes between twenty and thirty minutes.
Do I need an appointment to take the knowledge test?
No, just go to any DriveTest Centre at least an hour before closing time and you will be able to take the test without booking.
What mark do I need to pass the knowledge test?
An overall score of 80% or more is required to pass.
What happens if I fail the knowledge test?
You can pay the required fee and try again as many times as you like. If you retake the test within a year of your original attempt, you will only have to retake those parts that you failed. If you leave it more than a year, you will have to take the entire test again.
How can I revise for my knowledge tests?
All the information required for your class of licence can be found in the ministry of Transportation's Official Driver's Handbook. A partial version is available online but it is recommended that you obtain the printed copy of the handbook relevant to your class of licence. Additionally, there are MTO-approved driving schools that run courses that can prepare you for the test. You can also try our G1, M1, and Class A practice tests.
What languages can I take the tests in?
Computerised G1 and M1 knowledge tests are available in twenty languages, as are paper versions of the class G1 test. Paper versions of the class M1 knowledge tests are only available in English or French. For commercial licence knowledge tests, computerised tests are only available in French or English, and paper versions are only available in English, French, Arabic, Chinese (Cantonese), Hindi, Punjabi, Russian and Tamil.
I have poor reading and/or writing skills, what should I do?
The computerized knowledge test system can be used with audio capabilities, so it is recommended that you find a DriveTest Centre which can offer you a computer test. If you cannot manage the computer test then you can take a verbal test administered by a DriveTest Centre employee; you will have to make an appointment for this.
What if an applicant can't speak French, English or any of the other languages offered?
The candidate will have to make an appointment for a verbal knowledge test and bring an interpreter. The interpreter will have to meet the professional standards required by the Ministry of Transportation; the candidate can't simply bring a friend or family member.
How many questions are there on the G1 written test?
The G1 written test consists of 2 sections (Road Signs and Traffic Rules) with 20 questions in each section, a total of 40 questions on the written licence exam. An overall score of 80% or more is required to pass.
Expired Commercial Licences
My commercial driver's licence has been expired for six months, what do I have to do to renew it?
You must visit a DriveTest Centre and take a vision test and a written knowledge test. You may be asked to take a road/practical test although this is generally not required. You must also submit a satisfactory medical examination report.
My commercial driver's licence expired four years ago, what do I have to do to obtain a new one?
If your licence has been expired for this long that means that your Class G licence will also be expired. You will have to reapply for and obtain your Class G licence, then reapply for your commercial licence and pass all necessary vision, written, practical and criminal record tests relevant to the class of commercial licence you are applying for.
How will I know that my commercial licence is due for renewal?
The expiry date of your commercial licence is printed on your licence photocard. In addition, you will usually get a renewal reminder from the Ministry of Transportation in the mail. However, it is solely your responsibility to make sure your licence is up-to-date.
I've already paid for the commercial licence that expired, do I have to pay again?
Yes, if you let your commercial licence expire you will have to pay the appropriate fee for your licence as well as any fees applicable for additional testing.