G1 Practice Test – Rules 2
Free G1 practice test with no hassle, no fees, and no hidden gimmicks. Just simple driving test questions, answers, and explanations to help you pass your G1 written knowledge exam.
A flashing green light at an intersection where turns to the left and right are permitted indicates that drivers may: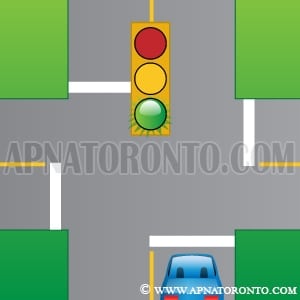 Turn right or left or go straight if the way is clear
---
Turn to the left if the way is clear
---
Turn to the right if the way is clear
---
Proceed straight through if the way is clear
---
How much time do drivers have to inform the Ministry of Transportation of any change of name or address?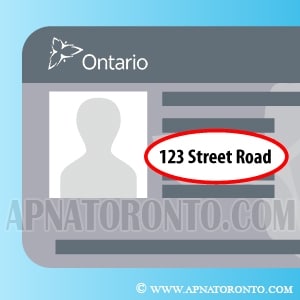 Until the next time they need to renew their license
---
A flashing blue light mounted on a motor vehicle indicates: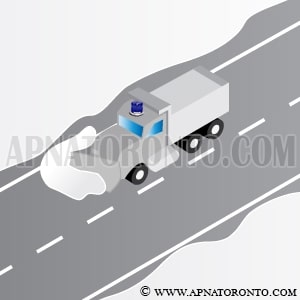 A motor vehicle carrying explosives
---
A police emergency vehicle
---
What should drivers do if they become stranded in snow?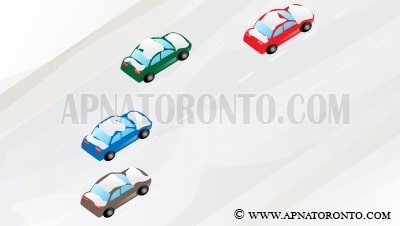 Run the vehicle's engine no more than about 5 minutes every hour to stay warm while avoiding carbon monoxide poisoning
---
Get out of the vehicle and begin walking to get help
---
Keep the engine running so that people in the vehicle will not freeze
---
Build a fire for warmth and to signal for help
---
A school bus with flashing red signal lights is stopped on a highway with no median strip. What does the law require drivers to do?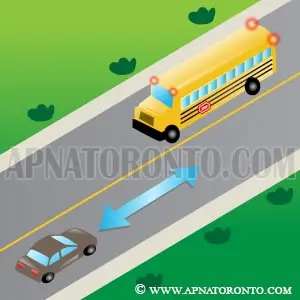 Stop at least 20 m away if approaching the bus from behind or stop a safe distance from the bus if approaching from the opposite direction. Proceed only when the bus' signal lights are no longer flashing
---
Proceed along the road, honking their horns loudly
---
Wait for approaching vehicles to pass, then pass
---
Reduce speed and pass with care, watching for children who may be crossing the highway
---
When approaching an intersection that is blocked with traffic, what should drivers do?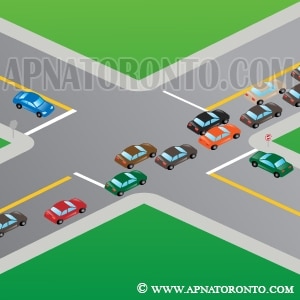 Stop and wait until the traffic ahead moves on before entering the intersection
---
Keep as close as possible to the car ahead
---
Make a U-turn and find another road that does not have a traffic jam
---
Honk loudly to warn cars ahead to start moving
---
The Accessible Parking Permit?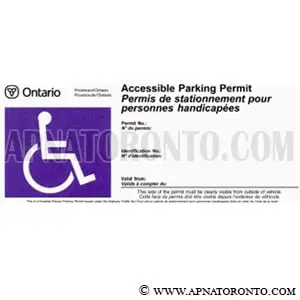 Issued to an individual, entitles the vehicle in which it is displayed to be parked in a designated disabled parking space
---
Permits the person with the disability to park anywhere, including areas signed, "No Parking"
---
Allows drivers to park in a disabled parking space even if the person with the disability is a not passenger
---
Special passing or climbing lanes let slower vehicles move into the right-hand lane so that faster ones can pass safely in the left lane.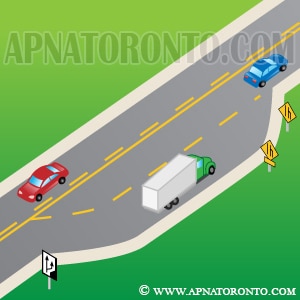 In good weather, what is the minimum following distance drivers should maintain between their vehicle and a motorcycle in front of them?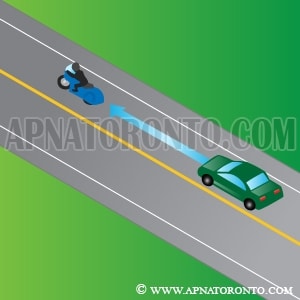 A traffic signal with a red light and a green arrow indicates: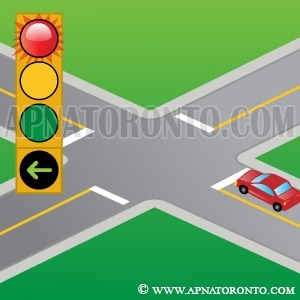 Proceed with caution in the direction of arrow
---
The green arrow is for pedestrians only
---
Stop and wait for a green light before turning in the direction of the arrow
---
If a traffic signal changes while a pedestrian is still on the street, who has the right-of-way?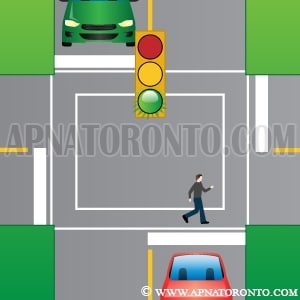 Motorists coming from right
---
Motorists coming from left
---
Fully licensed drivers (G license) may be required to attend an interview and/or re-examination of their driving ability at: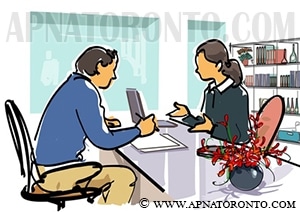 What should drivers do if they feel drowsy while driving?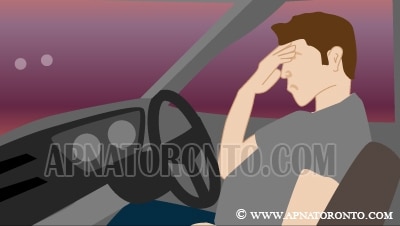 Stop in a safe area and rest
---
Open the window for some fresh air
---
When are drivers permitted to lend their license to someone else?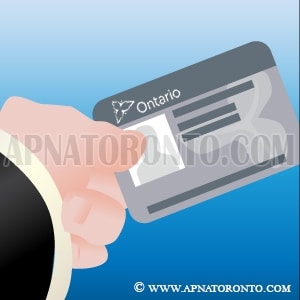 When the other person is learning to drive
---
When the other person needs it for identification purposes
---
When the other person needs it for an emergency
---
What documents may police officers require drivers to produce?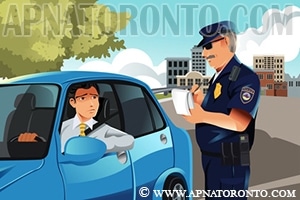 All the answers are correct
---
A pink insurance slip for the vehicle being driven
---
The ownership papers for the vehicle being driven
---
Their own valid driver's license
---
What is meant by 'overdriving' the headlights?

It means that drivers are going so fast that their stopping distance is farther than they can see with their headlights
---
It means that drivers are using their high beam headlights all the time
---
It means that drivers are overworking their headlights, increasing the likelihood that the bulbs will burn out
---
Pedestrians facing a flashing or steady red hand symbol should: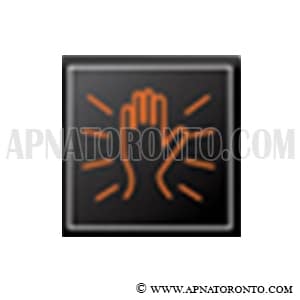 Not begin to cross the road. If they have already begun to cross, they should finish crossing quickly and safely
---
Race across the intersection as quickly as possible
---
Wave at the red hand in order to be polite
---
How much insurance coverage is provided to an uninsured driver?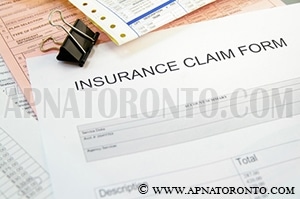 $10,000 insurance coverage
---
$15,000 insurance coverage
---
$20,000 insurance coverage
---
When involved in a reportable accident, drivers must report this to their nearest provincial or municipal police...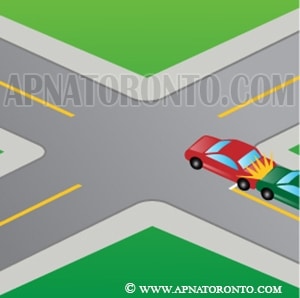 Under what circumstances could drivers lose their license?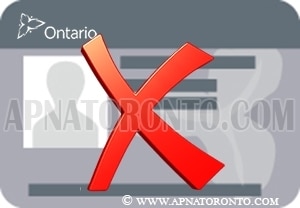 Failure to attend a re-examination
---
Failure to pay a reinstatement fee
---
Failure to pay a traffic fine when ordered by the courts
---
Never change lanes without: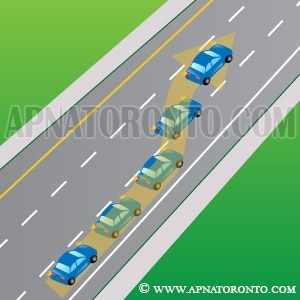 Signaling, checking the rear view mirror and checking blind spots
---
Checking the rear view mirror
---
Honking the horn and providing the appropriate hand signal
---
Signaling and decreasing speed
---
At an intersection where left-turn lanes are marked on the pavement....?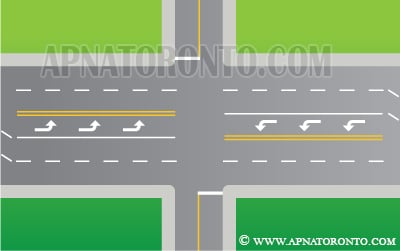 Make your turn from the marked lane
---
Does not matter provided you signal
---
You can use it to pass slower traffic
---
You can use it to park your car
---
If you are reversing straight back or to the right...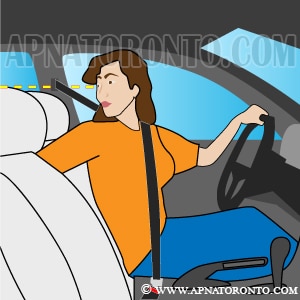 Turn your body and head to the right and look back over your right shoulder
---
Turn your body and head to the left and look over your left shoulder
---
By law, drivers must report a collision to the police when a person sustains injuries, or when there is damage to vehicles or other property exceeding: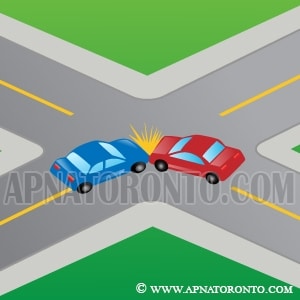 The hand-and-arm signal for right turn is indicated by: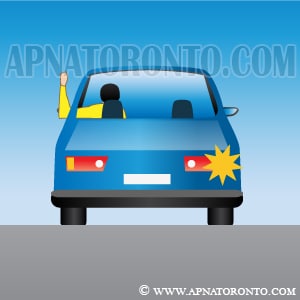 Circular motion of the arm
---
Arm straight out the window
---
When a police officer motions them to go through an intersection where the light is red, what should drivers do?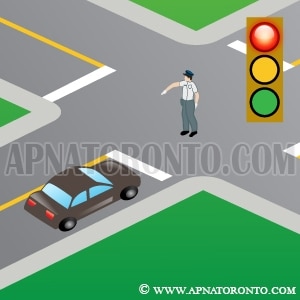 Obey the police officer's signal and proceed
---
Wait for the light to turn green
---
Call the police officer's attention to the red light
---
Stop to make sure the police officer wants them to go through
---
What should drivers do when driving on a highway near an exit ramp if there are continuity lines to the right of their lane?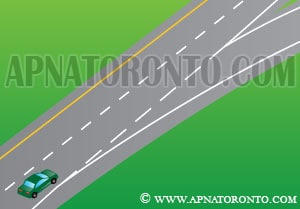 They are not required to do anything unless they want to exit; the lane is unaffected
---
They must merge with the traffic to their left
---
They must merge with the traffic to their right
---
They must exit because their lane is ending
---
If a commercial vehicle becomes disabled on the highway during a period that lights are required, flares or reflectors must be placed on the front and the rear of vehicle at an approximate distance of...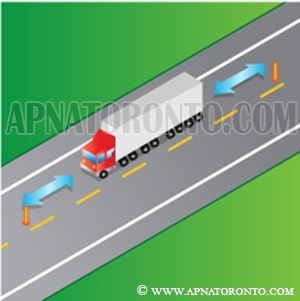 The Ministry of Transportation may suspend the license of G drivers after a 9 demerit point interview: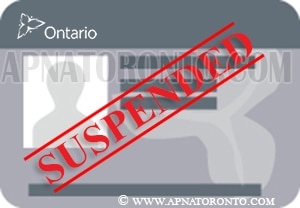 If the driver fails to attend the interview, or fails to give good reasons for being permitted to keep the license
---
If the driver does not have at least 5 years driving experience
---
If the license is not needed for business purposes
---
The Ministry is not permitted to suspend licenses until drivers reach 15 demerit points
---
What actions should be taken when a vehicle's brakes fail?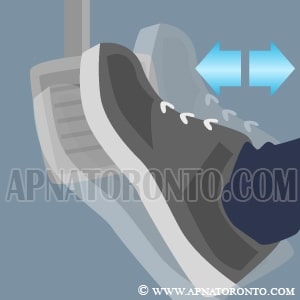 Pump the brakes rapidly and shift into a lower gear
---
Press on the brakes as hard as possible until they re-engage
---
Use the emergency brake and honk loudly to warn other drivers while looking for a soft collision point
---
Wave down the nearest police officer and shout for help
---
The first time they reach 15 demerit points, fully-licensed G drivers will have their license: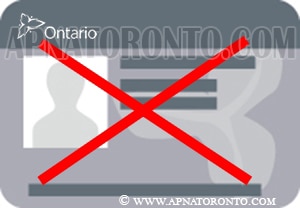 Road test failures may result from: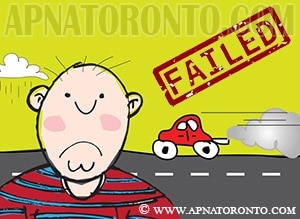 Lack of skill and control
---
Difficulty obeying traffic laws
---
What is the safest action for drivers to take when their vehicle drives over black ice?

Calmly remove their foot from the accelerator and steer in the desired direction
---
Calmly remove their foot from the accelerator and steer immediately to side of the road
---
Brake hard while maintaining a firm grip on the steering wheel
---
Put the vehicle in neutral and steer in the desired direction
---
The centre lane of some roads is used as a ....?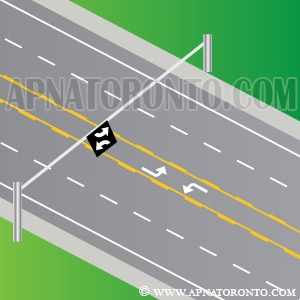 What is the consequence for the third or subsequent occurrence of a driver caught with a blood alcohol concentration in the 'warn range' of 0.05 to 0.08?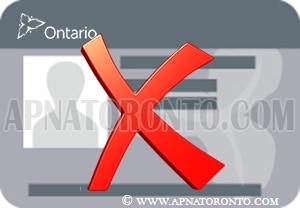 A 30-day license suspension and a $150 fine
---
A mandatory alcohol treatment program
---
An ignition interlock condition lasting six months
---
Wet roadways can cause: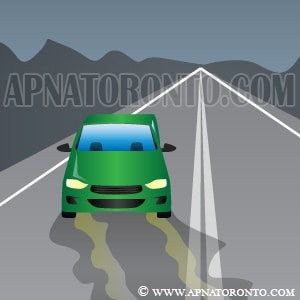 The best way to stop quickly on wet or icy roadways is to: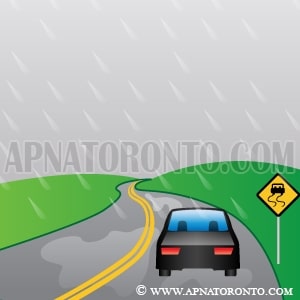 Brake firmly. If the wheels lock, release and reapply the brakes in quick succession until the vehicle comes to a stop
---
Brake hard and hold the wheel firmly to prevent the vehicle from skidding
---
Do not brake. Release the gas pedal and let the vehicle slow down and stop on its own
---
Apply the brakes as usual; do not brake hard
---
When turning left onto a one-way road to a one-way road you must: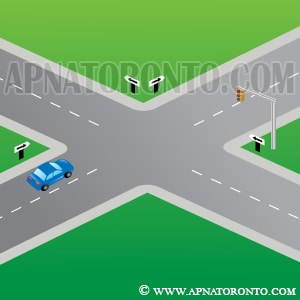 Turn from the left curb lane to the left curb lane
---
Turn from the right curb lane to the left curb lane
---
Turn from the left curb lane to the right curb lane
---
Turn from the right curb lane to the right curb lane
---
A solid line to the left of a lane means: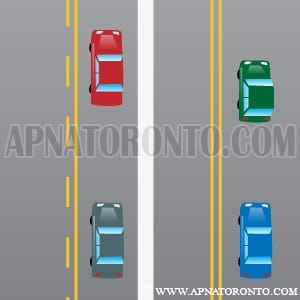 Overtake and pass with caution
---
Pass only when there is no traffic in sight
---
Pass as soon as it is safe to do so
---
When approaching a railway crossing where an electrical or mechanical signal device is warning of an approaching train, drivers must: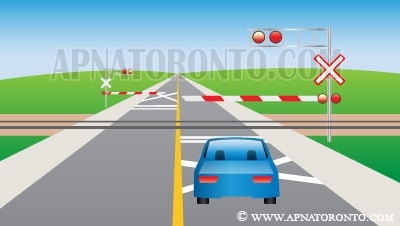 Stop at least 5 m from the nearest rail or gate
---
Stop at least 1.5 m from the nearest rail or gate
---
Accelerate and cross the tracks as quickly as possible
---
Slow down and proceed across the tracks with extreme caution
---
Share the quiz to show your results !
Subscribe to see your results
G1-Rules2
I got %%score%% of %%total%% right
%%description%%
Take Ontario Driving Practice Test to Get License in First Attempt
Are you all set for getting your driver's license in Ontario? You must be but the thing which can be daunting is the process of clearing the exam. Are you aware of the process of getting a license in Ontario?
If not, then here in this piece we will walk you through it and also share the benefit of taking the Ontario driving practice test before the exams.
Well, without wasting any more time, let's jump to the process.
How To Get a Driver's License in Ontario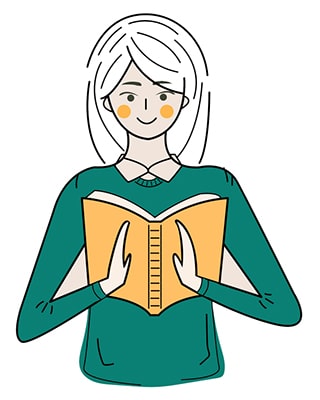 If you choose to get, upgrade, reinstate, or swap a driver's license in Ontario, you'll have to take one of three forms of examinations or exams. Before you can drive on the highways, you must pass the knowledge, lane, and vision tests. Both checks are performed by a DriveTest employee at a DriveTest Centre in the province. All three tests are mandatory and explained in detail below.
Knowledge/Written Tests – The very first test you need to pass for getting a driver's license in Ontario is a knowledge or written test. It is also known as the G1 test. Drivers trying to renew or reinstating their Canadian driver's license or transferring a foreign driver's license could be required to take another knowledge exam. The test will contain multiple-choice questions with 2 and 3 sections. The time limit provided is 20- 30 minutes to complete the exam. It comes in 20 languages but major levels are either in English or french. To pass the exam you need to have at least an 80% of score.
Road Tests/Driving Exams –

You will be required to undergo two kinds of road tests for the G2 and complete G-levels of the Ontario driver's license. Before obtaining a full license, new drivers must complete all driving tests. These tests are basically to check driving skills. The G2 driving exam is intended to assess your fundamental driving abilities. It lasts about 20 minutes and takes place exclusively on city streets, with no testing on highways in the 400-series. The G driving assessment covers everything included in the G2 exam, but it also provides a test of more specialized driving skills, mostly highway driving. They last about 30 minutes, and new drivers must have had their G2 for at least 8-12 months before taking the G road exam.

Vision Test –

In Ontario, the driver is responsible for maintaining driver's license records up to date, including the vision status. If you no longer need glasses, you must pass a Vision Test at a DriveTest Center and have your vision doctor complete a form to affirm your status.
How to Pass Ontario's G1 Test
Now as we have mentioned earlier the very first step is to pass the G1 test which might seem hard if you haven't prepared well. The test contains a multiple-choice question that covers traffic signs and laws of the road. So to pass you need to know all about it. The level of difficulty of the exam depends on the factor of how much you have prepared for it. You should be able to pass the exam if you read the MTO handbook closely and are familiar with the road rules and signs. Learn the G1 sample questions and grasping the driving situations would also help a lot.
Why Ontario Driving Practice Tests Necessary to Pass the Exam?
Now even after reading the handbook, most people lack confidence or get nervous before the exam. Why is it so? The reason for the same is they haven't taken any practice tests to boost their confidence. Practice assures you that whatever you learned is there as long as you pay attention to the question asked in the exams. However, the official website has a practical question but that questions are not just enough to provide you with encouragement. There are many websites that are offering free or paid tests that can help you master the G1 syllabus. The easiest way to train for the first series of Ontario driving tests is to take as many Ontario G1 or M1 practice tests as possible. You are significantly to pass the real Ontario's Ministry of Transportation driving examination on the first attempt until you are fully familiar with the quality and format of the Ontario driving test.
These sites not only provide practice tests but also offer handbooks so that you can learn all about the exam. These tests are designed in a way that will give you practice answering the same kinds of questions you'll notice on the real G1 written test. All the questions are from the recent MTO Driver's Handbook. Plus, the pattern of scouring is the same as the real examinations.
Not just this, these practice tests are based on difficulty too So that you will be prepared for the easy and hard part as well. Most often people take 1 or 2 practice tests and draw a conclusion that it is enough to pass the examination. Our advice is to take as many as possible practice tests. The more practice test you will take the more confidence you will get and the less fear you will have about the real examination.
By taking the practice tests you will improve your chances of clearing the G1 test in the first attempt itself.
The Final Thought
That's all! We know the process can be a little tricky or daunting but keep in mind nothing comes easy. And getting a license is one step towards a responsible citizen of the country. So, don't screw your chances by not taking a practice test. It does not help you learn about the road and safety rules but also enhances your chances of getting a license first compared to your friends.
So what is coming in your way of getting a license? To be very honest, nothing. Just study hard and take more practice tests and voila! There you have it.
In case you have any queries regarding the same, write back to us in the comments sections.