G1 Practice Test – Signs 2
Remember, our Ontario driving test is similar to the official MTO written knowledge test that you will have to take and pass in order to attain your G1 licence, as there is no practice test that can be the exact same as the official test, as they tend to change often, but nonetheless, by practicing with them in conjunction with Ontario driver's handbook, you will be well on your way to attaining your G1 licence in a short period of time.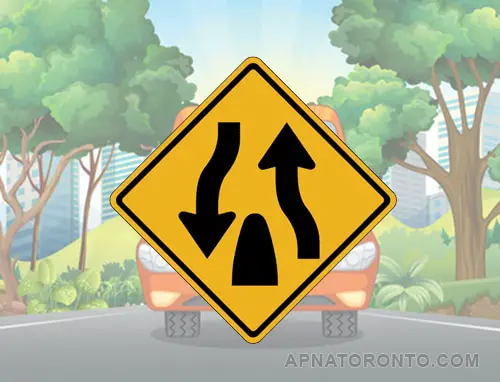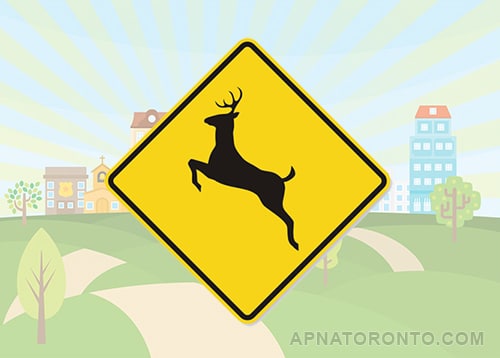 Deer regularly cross this road; be alert for animals
---
Wildlife preservation center ahead
---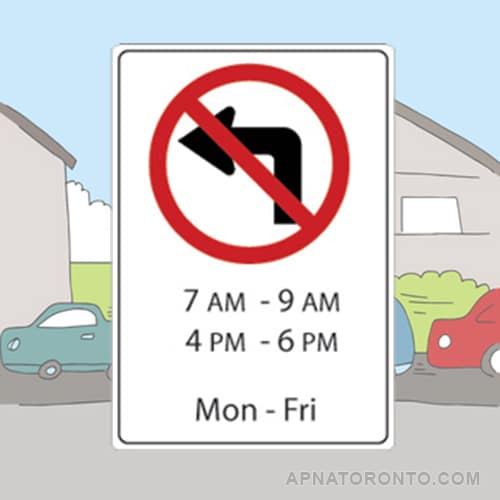 Do not turn left during the times shown
---
Do not turn right during the times shown
---
You may turn left only during the time shown
---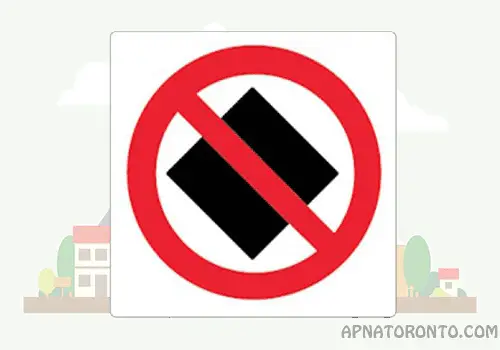 Dangerous goods prohibited
---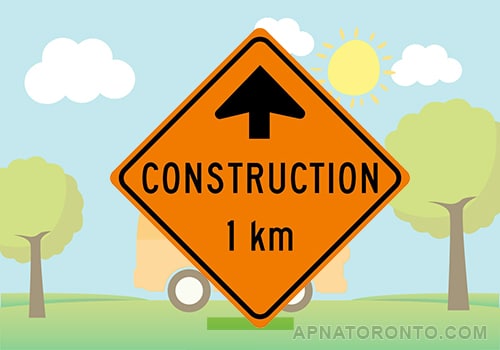 Construction work one kilometre ahead
---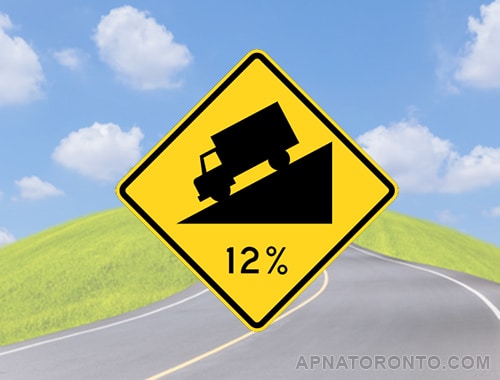 Steep hill ahead. You may need to use a lower gear
---
Pavement ends, 500 feet ahead
---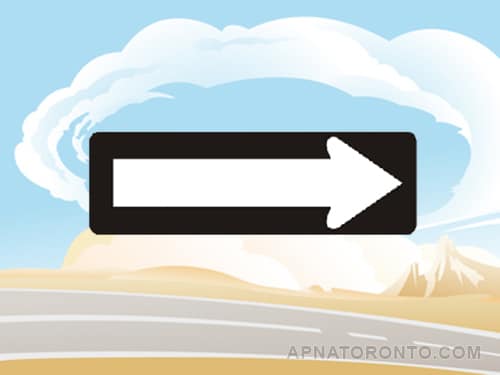 Traffic may travel in one direction only
---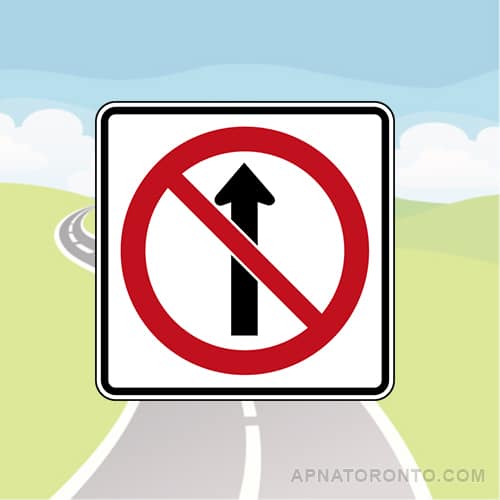 Do not drive through the intersection
---
You may proceed through intersection, if clear
---
Through traffic permitted
---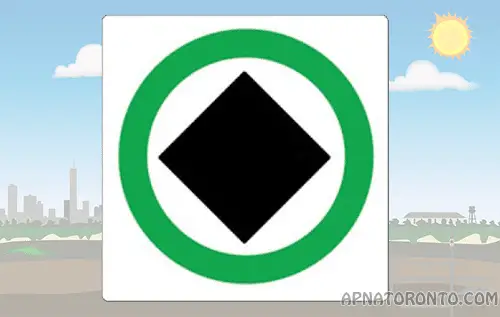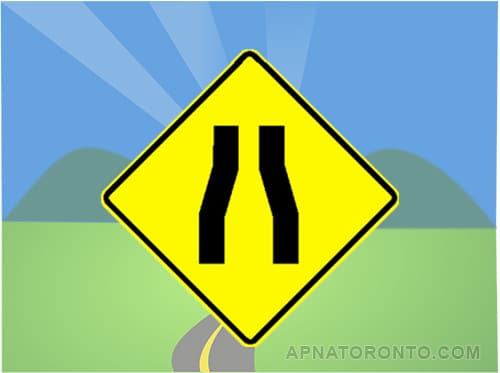 Hidden intersection ahead
---
You are approaching a one-way street
---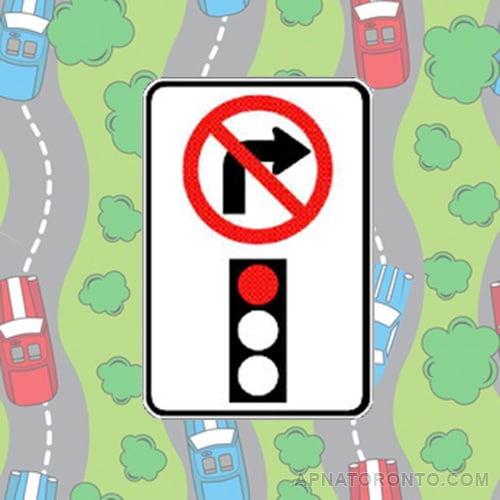 Do not turn right when facing a red light at the intersection
---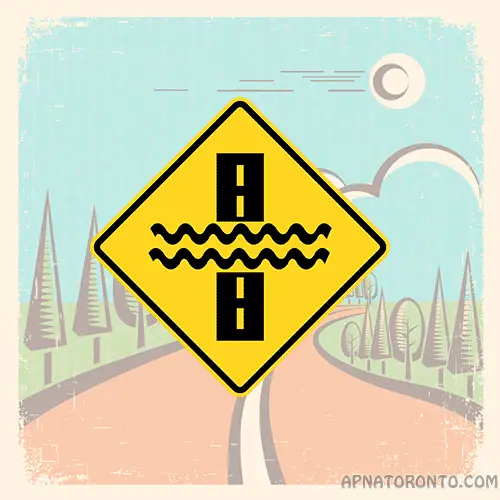 There may be water flowing over the road
---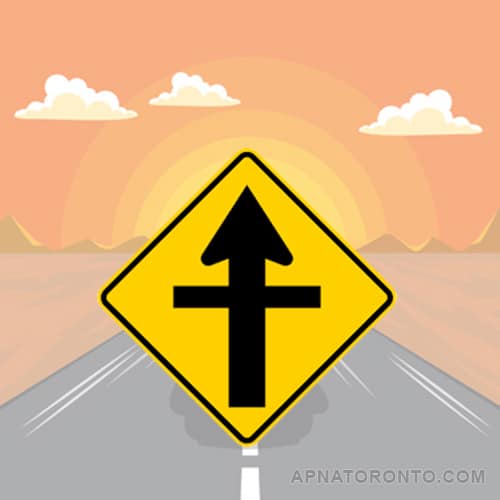 Intersection ahead. The arrow shows which direction of traffic has the right-of-way
---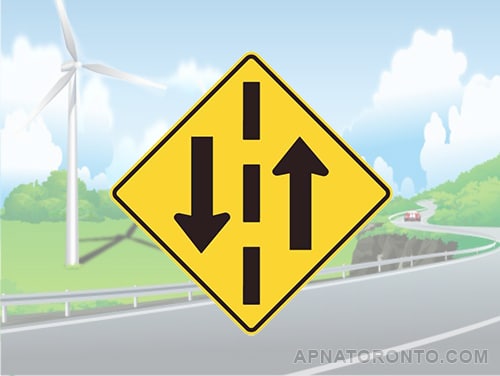 Share the road with oncoming traffic
---
Road merges with another road
---
Curb lane of cross street ahead
---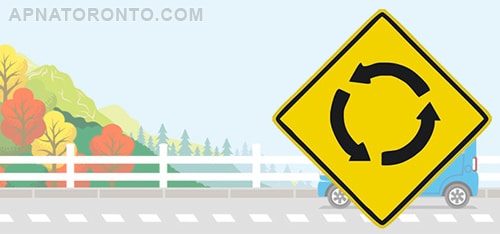 Roundabout Ahead. Reduce Speed
---
Hazard close to the edge of the road
---
You may exit if you remain in right hand lane
---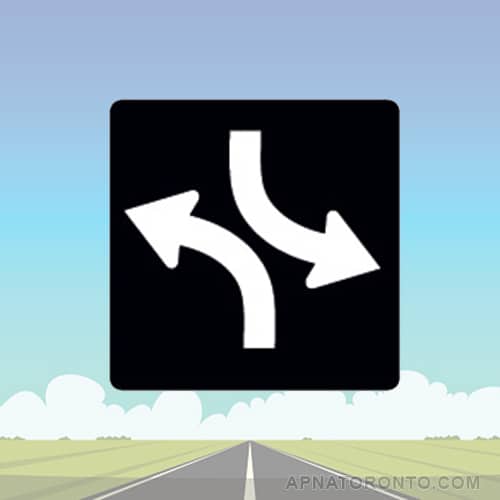 The lane is only for two-way left turns
---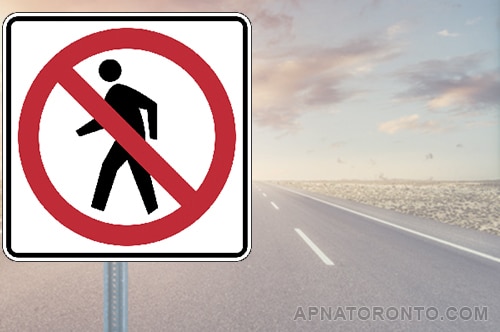 No pedestrians allowed on this road
---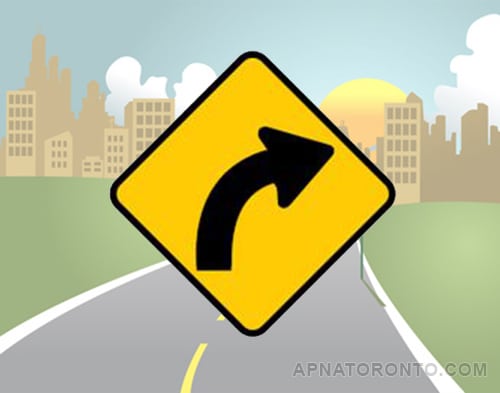 Slight bend or curve in the road ahead
---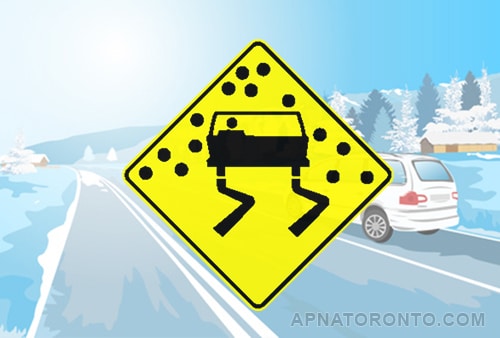 Pavement is slippery when wet. Slow down and drive with caution
---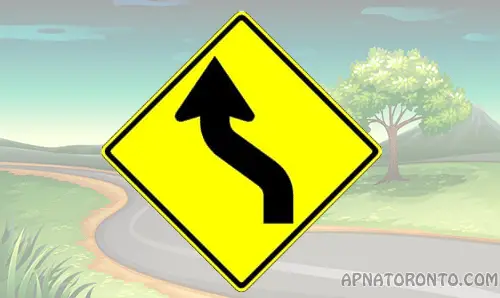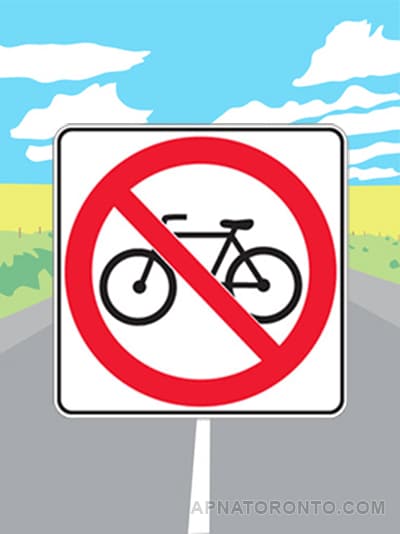 No bicycles allowed on this road
---
Do not leave your bicycle here
---
Bicycle are not permitted unless you carry a valid pass
---
You can park your bicycle here
---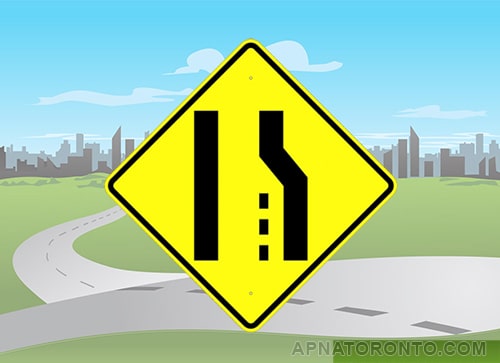 Hidden intersection ahead
---
You are approaching steep hill
---
Pedestrian crossing ahead
---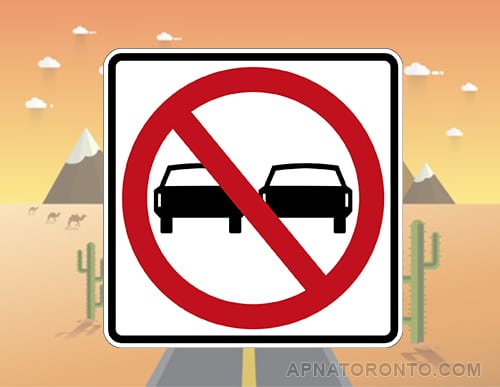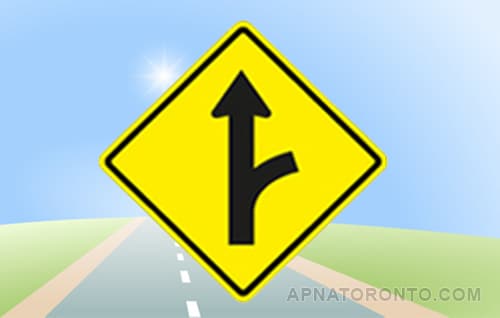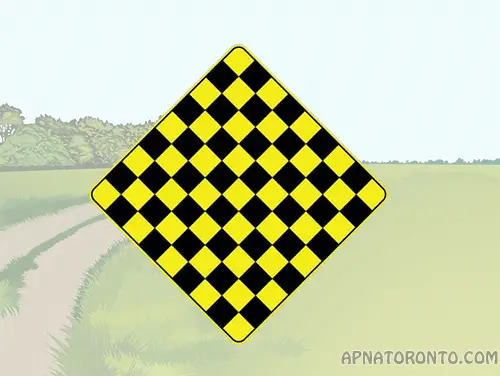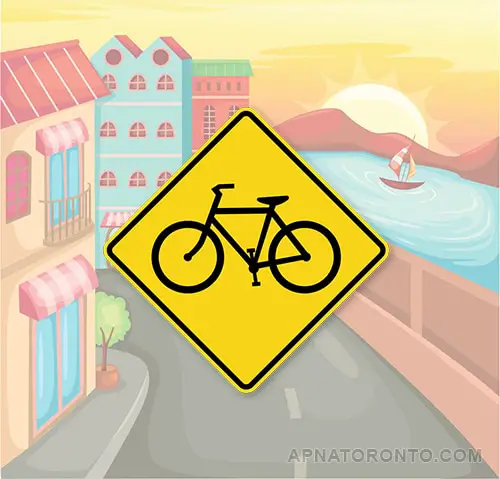 Bicycle not allowed ahead
---
Only bicycle permitted ahead
---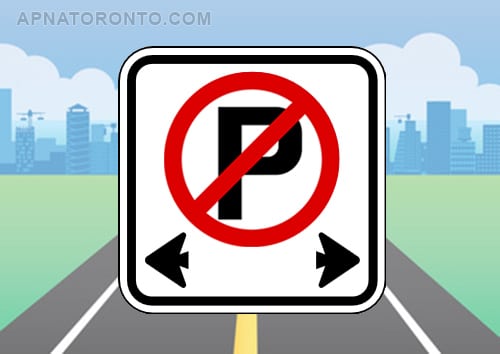 Do not park in the area between the signs
---
Park in the area between the signs
---
Restricted parking available
---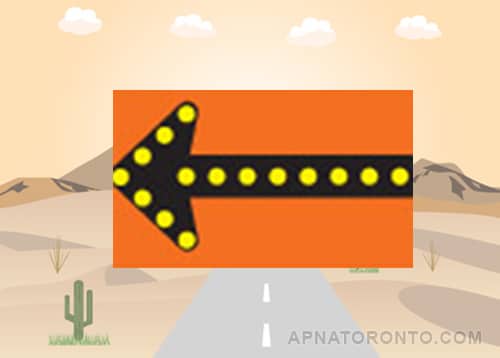 Flashing lights on the arrows show the direction to follow
---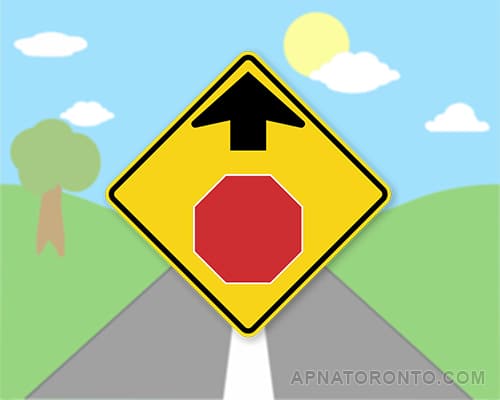 Stop sign ahead. Slow down
---
Slow moving vehicle ahead
---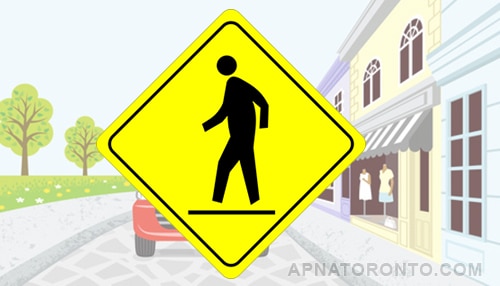 Watch for pedestrians and be prepared to share the road with them
---
Share the quiz to show your results !
Subscribe to see your results
Signs 2
I got %%score%% of %%total%% right
%%description%%
G1 Test Online: Know What Happens Exactly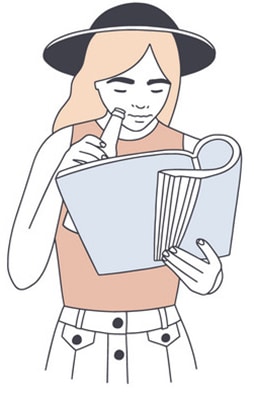 G1 Test online is a part of the G1 written test for the Ontario Ministry of Transportation. The Canadian government requires its citizens to get a driving license by appearing in several driving tests. It is pretty exciting to get your license for the first time by succeeding in the G1 written test.
You have to study the driver's handbook so that you can get the G1 license. The G1 tests consist of a test on road signs and traffic rules. And, each of these sets carries 20 questions. So, whenever you are driving on Canadian roads, you need a license. Also, the Ministry of Transportation needs to register the same.
How can a person get a driver's license in Ontario?
There are certain tests that the transportation ministry carries out for a driver to become eligible for the license. These tests depend on the type of license you want and your driving nature. At Level One, you get the G1 license. In short, you can start at this level.
When you are starting as a car, van, or small truck driver, you have to take the knowledge and vision test. That's because, it helps to determine whether you are having a good understanding of the traffic signs, road signs, and the driving rules in Ontario.
Moreover, you need to pay for all the road test fees before booking the G1 road test appointment. There are different ways to book an appointment. You can opt for a G1 test online, visit a test center, or reach them over the phone. Also, you have to pay a nominal fee for the knowledge test.
Moreover, novice drivers cannot book a G1 road test after the expiry date. And, those drivers have to begin their licensing procedure all over again. The G1 written tests for all kinds of license classes are provided in DriveTest centers.
Do you need an appointment before the G1 written test?
No, there is no need for an appointment when you are planning to take G1 written test. Also, the G1 written test is known as the G1 knowledge test. However, keep in mind that you need to enter at least one hour before the test center is closed for the day.
When you reach the place a bit earlier, it gives you enough time to get the vision and knowledge test done. When you are a G1 driver, you have to be a licensed driver. Also, you need to have a minimum driving experience of about 4 years.
Always remember that arrive 30 minutes on the premises before the stipulated time so that you can complete all the formalities in due time.
What makes the examiner refuse or stop the G1 Test before starting?
There are certain conditions where the examiner might refuse or stop to begin the G1 test. Here are the conditions:
The vehicle is in a bad condition and isn't working well
The driver is showing signs of drug abuse or drinking alcohol
The driving skills of the person are not good enough to complete the G1 test. As such, they risk themselves and the people around them
The examiner explains to the driver what is needed during the road test. But they won't assist any driver during the G1 test. So, if you have any kind of questions, you may ask the examiner before the test begins.
What are the questions that the examiner asks you?
Before the G1 road test begins, the examiner asks you two important questions. And, these are:
Do you use eye lenses or glasses while driving?
Are you suffering from diabetes, heart diseases, epilepsy, loss of awareness, seizures, or other kinds of physical disabilities that decreases your efficiency while driving?
Now, these are crucial questions. And, you need to tell them what you believe to be true by law. If you hide something, it could have devastating consequences. It can lead to license suspension, or fine, or imprisonment.
Whenever you book for a G1 test online, be aware of another important thing. If you cancel your booking three times, the system might block you. And, you cannot book again. You have to contact the concerned authority to book an appointment for another G1 road test.
Also, keep in mind that the scheduled appointment for the G1 road test might be subject to change without prior notice.
What are the criteria to obtain a G1 driver's license?
If you are planning to obtain a G1 diver license, you have to meet the following conditions.
Canadian citizenship card
A valid passport
Permanent resident card
Proof of current residence
Record of landing
Immigration papers, if there is any
If the aforementioned requirement is fulfilled, you have to pass the G1 knowledge test and vision test. These tests comprise of the traffic signs and rules you need to know. Also, you can apply to the test in different languages.
Moreover, you can prepare for the tests by visiting different websites. There you can practice the test before making it out to the real one. In general, these tests give you an idea about beginner driver education. So, if you are unsure about the real G1 test, you can take the G1 online practice test and get yourself prepared for the original G1 licensing test.
Also, it is wise that you practice before the real G1 driving test. Parallel parking and three-point turns are some of the important driving techniques you need to learn before handed. That way, you can easily pass the main exam. Make sure that your vehicle is in good working condition.
Be sure to check your vehicle to find out if the turn signals, brakes, headlamp, etc. are working in order. On the scheduled day of your G1 licensing test, reach the venue before 2 hours. Don't stress yourself. Relax and try to stay calm by taking long deep breaths.
While giving the test, look in the side mirrors and make head movements so that the examiner sees you in action. Pay close attention to the examiner. Doing prior research on the internet might prove handy in these situations.