The winter driving is right around the corner, and that can mean danger for you and your vehicle. Driving in snow and ice is no fun, and it can be downright hazardous at times. The good news is that you still have time to prepare before the worst days of winter arrive.
One of the most important things you can do to prepare for winter driving is make sure your vehicle is in good condition. Finding yourself disabled at the side of the road is never a fun experience, but it can be downright dangerous when the snow and ice starts flying and temperatures start falling. Having your car inspected and fixing any problems now can save you a lot of trouble later.
Make sure your automotive fluids are topped off and checked regularly. You should check the oil and transmission fluid levels every time you fuel up and make sure your tires have the right amount of air. Even new tires can lose air in cold weather, so check the pressure each time you get gas.
Even the best maintained car or truck can break down, so be sure to pack an emergency kit in your trunk. That emergency kit should include a set of flares to flag down help, along with orange cones or markers to warn other drivers of your presence. The emergency kit should also include a set of jumper cables to deal with a dead battery and a jack to help you change a flat tire.
Last but not least, your emergency kit should include a warm blanket or sleeping bag to protect you from freezing temperatures and some protein bars or healthy snacks to keep you well-nourished. Be sure to pack some bottled water or sports drinks. Staying hydrated is important if you are stranded in the cold weather.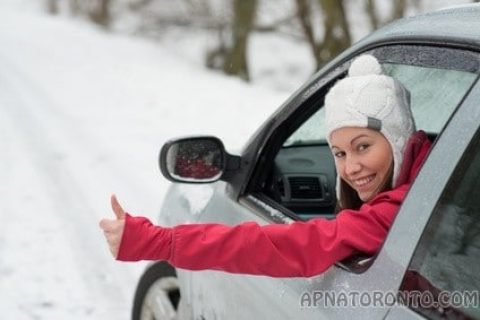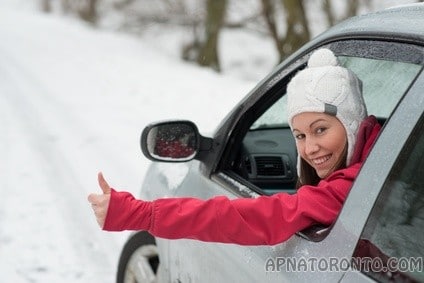 If you do have to go out in the snow or ice, be sure to clean your car properly before you pull out of the garage or leave the driveway. Allow your vehicle to warm up completely before you set out, and be sure that your windshield, rear window, side windows and mirrors are clean and free of frost and ice.
You should also clean your headlights before you leave, even if it is still daylight outside. Headlights help you navigate in the dark, but they also allow other drivers to see you. Clearing accumulated snow and ice from the headlights will make your vehicle more visible and keep you safer on the road. The lack of visibility is just as hazardous as the slippery roads, and it is important to use your headlights when driving in bad weather.
Do not forget to clean your windshield wipers when driving in ice and snow. Snow, ice and road salt can build up quickly and obscure your vision while driving. If your windshield wipers cannot adequately clear the windshield, be safe and pull off the road to clean them. Applying a bit of windshield wiper cleaner before you leave can help, as can topping off your windshield washer fluid.
Driving in snow and ice is always a challenge, but getting your car ready ahead of time can help a lot. Now is the perfect time to get ready for the difficult days of winter. Doing the right preparation now can keep you safer no matter how bad winter gets.