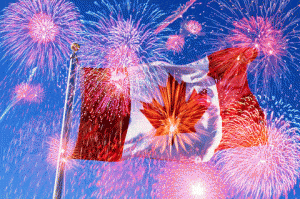 There are many exciting things to do on Canada Day. The largest celebrations will be held in Ottawa, Vancouver, Toronto, and Halifax. Enjoy fireworks, barbeques, dancing, carnivals, circuses, exotic food, and more!
Ottawa is the national capital of Canada and usually hosts the largest celebration. This year's celebration will be exceptional because the city is expecting a visit from the Queen of England. The festival will last from dusk till dawn. The main activities will be held at Parliament Hill. Starting at noon there will be a concert featuring, the Barenaked Ladies, Isabelle Boulay, Dione Taylor, and more. After the concert there will be street performers from 2PM to 5PM. Another concert will be held from 6:30PM to 10PM. The spectacular fireworks show will start at 10PM.
The Toronto festivities will be held at Mel Lastman Square. The majority of performances will be held at Main Stage. The show begins at 5PM and ends around 10PM and will feature performances by, Jaivah Nouvel Exposé, Ballet Raíces del Colombia, Saidah Baba Talibah, and The Slakadeliqs with Justin Nozuka. There will be a concert at the Garden Court from 5PM to 7PM featuring, Capoiera Camara, Crystal John, Maracatu Mar Aberto, and Jeff Hill. The fireworks show will start around 10:15PM.
Vancouver will be hosting many Canada Day celebrations but the largest will be held at Granville Island. The festival starts at 8AM and ends at midnight. Activities include a pancake breakfast, an official Canada Day Ceremony, live jazz, and MELA, a celebration of South Asian culture featuring, music, dance, delicious food, and more. The fireworks show will start at 10:30PM and end at 11PM. The show can be viewed for free from Coal Harbour, Stanley Park, West Vancouver and North Vancouver. Reserved seating tickets can be purchased for $10, kids 12 and under get in for free.
Dartmouth Crossing is planning to host one of the largest Canada Day celebrations in the country. There will be free pancake breakfast from 8AM to 9AM at Alderney Landing Events Plaza and Grand Parade. The official Canada Day ceremony will be held from 11AM to 1:30PM at the Halifax Citadel. From 2PM to 4PM there will be free concerts at Sullivan's Pond and Public Gardens. The fireworks show will be at the Harbour and will start at 10PM.